"Cazenovia Lakers Football" logo design
Business Name
Cazenovia Lakers Football
Business Description
High school football team entering playoffs needing phrasing added to existing logo.
Ideas & concepts
Please see attached Lakers logo. Looking to combine this with "Beast of the East" phrase and also add "2017" into the design. New logo also needs to scalable to large print format.
Additional Design Inspirations
please borrow script style, colors, etc.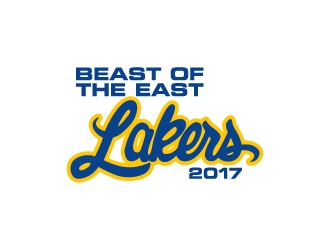 Logo #

12 by manabendra110
Logo #

13 by manabendra110
Logo #

14 by manabendra110
Logo Concept #10 by abss (Confirmed!)
11 month ago

Admin