"Flawless Glow" logo design
Business Name
Flawless Glow
Business Description
Flawless Glow is a mobile spray tan company. We spray tan for cheerleading, dance, weddings, everyday life and special occasions.
Ideas & concepts
For the edit change. I like the first logo except for the silhouette of the female body. Can I see a sample where her body and hair is not colored in.


The first one I like the silhouette of a female body with the orange coming around her body giving the illusion she is getting a color change. Definitely want to stay away from the color orange. Bronze, Turquoise and Browns. The second logo is very simple with the sun and I like the colors involved with this logo. The lettering in both logos minute the cursive is spot on.
Additional Design Inspirations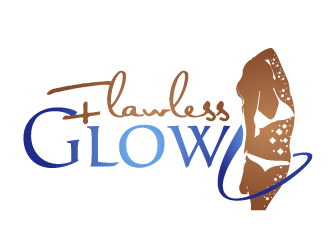 Logo Concept #1 by aRBy (Confirmed!)
5 years ago

Admin