"FruitBlenderz" logo design
Business Name
FruitBlenderz
Business Description
Visit neighborhood restaurants to get 1 free smoothie each month. Smoothies are hand picked by us and sent via text message. New smoothies are offered each month.
Ideas & concepts
Our name will need to be in 2 colors. The word Fruit in red. The word Blenderz in green. The name needs to be together and not separated (Fruitblenderz). Our tagline needs to be underneath the name. The tagline is: Discover. Smoothie. Happiness.

Above our name I need the following fruit: strawberry, orange, banana and watermelon. I attached a photo of what I like it to look similar to.
Additional Design Inspirations
Need the fruits and the colors to be similar to this style.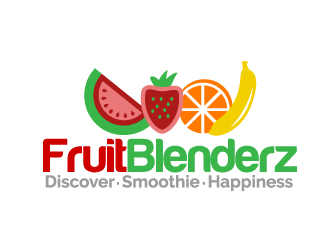 Logo Concept #4 by manabendra110 (Confirmed!)
4 years ago

Admin