A logo functions as your brand's face, showcasing your personality and positive qualities. Every aspect of the emblem makes an impression on users, from the colors to the font type. Most companies utilize a logo across a huge range of mediums. If you want your design to stand out, it must look as good on a billboard as it does on a website.
In Criteo's State of Digital Advertising report, researchers found 36% of marketers plan to increase their omnichannel promotional budgets. To effectively reach potential customers, you must advertise across a variety of platforms.
Since it's highly likely you or your client will use a logo in multiple places, how can you ensure it works for all scenarios? Here are some things to consider.
1. Consider Your Audiences
Every business has multiple audiences. You have customers, which may divide into several buyer personas, employees and the general public. The way each perceives your brand may vary and your logo has to speak to all.
There are some challenges with digital content, in particular, which you can solve by remaining consistent in your presentation. An excellent logo design helps.
Dig into your internal data and analyze what things your audience responds to. The better you know those encountering your brand logo, the more on-target your design will be.
2. Throw Out the Trends
Your logo will be in use across multiple channels and utilized for years. You want your brand image tied to it, so when users see your logo they know what it stands for. Think about brands such as Nike, where the swoosh stands for athletics and comfortable footwear.
Forget about what is trending in logo design. You're much better off going with a traditional look that won't become dated in a few months. Other than minor tweaks, the logo you start with should be the one you have decades later.
3. Embrace Artistic Principles
In a consumer survey, 72% of people said brand logos were artistic works. They felt just looking at the logo helped them better understand the brand. While you can design your logo, enlisting the help of a professional graphic artist takes your emblem to the next level.
Think about the space surrounding letters, how well any images mesh with the fonts you've chosen and the layout of your design.
4. View in Black and White
Are you unsure about how well your logo might translate in print? Take the design to black and white and make sure everything is still crisp and recognizable.
Colors add excitement to your design and can tap into user emotions. However, they also can distract from flaws in your logo. Changing everything to black and white takes the drawing back to basics and helps you see what might need more or less detail.
You can also more easily spot unintended messages or shapes, such as two images making a third you didn't plan for where they connect. Black and white print is more cost effective, so you may want to keep the design saved for paper advertising.
5. Save as a Scalable Image
Since you're designing a log to use in various places, you'll want to ensure it's scalable enough to shrink very small or blow up huge. The format you save your image in will make a difference in how well it translates.
An SVG file is one of the most flexible formats, allowing you to create large scale projects without losing clarity. However, if you have animated elements in your logo, you may have to choose a GIF.
In a situation where you can't save as an SVG for whatever reason, keep a master file in whatever graphic design software you use so you can export the graphic in different resolutions and formats as the situation dictates.
6. Step Back from the Design
Use your computer screen to help you create a logo that works anywhere. Blow it up as large as your screen allows and step back from the computer. How does it look from a distance? Now, study it up close.
You should also shrink it down as small as possible and repeat the process above. Is everything still readable? Do any of the letters mesh together and overlap? If so, you must add more white space.
Repeat the process as many times as necessary until you have the exact look you want. If you still aren't sure, you can use a printing service through sites such as Staples or Office Depot and print the logo to different types of paper and in different sizes. You'll see how it looks when printed out.
7. Add a Primary Concept
What is the core of your business and does your logo show it? Apple Computers is a good example of a core concept. Their initial rendering for their brand image was Newton under an apple tree bearing a single piece of fruit.
Their logo today is an apple with a single bite out of it. The core concept of discovering new things is still present through the apple, but it is a simple, easy to replicate logo that people recognize and flock to.
What a Well-Designed Logo Does
A unique and memorable design defines your brand and helps grow your recognizability with consumers. Take your time coming up with the best concept to match your business' personality. With a little extra effort, your logo can drive company growth and become a symbol of what you've built.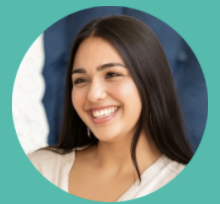 Eleanor is the editor-in-chief at Designerly Magazine. She was the director at a marketing agency prior to becoming a freelance web designer. Eleanor lives in Philly with her husband and dog, Bear.