When it comes to cheap logo design, two companies are leading the way by offering custom logo design service starting at just 5 bucks. Fiverr is an online service marketplace that offers logo design and everything else starting at $5. freelancelogodesign.com is a website dedicated to $5 custom logo design and can promise to deliver you logo in less than 60 minutes.
Real or Not
Ok, so can you really get a custom logo design for 5 dollars? Well, the keyword here is "Starting at $5", so most likely the actual cost will be higher.
For logo123, you can order custom logo concepts for $5 each, and if you actually want the vector source file and use the logo, you will need to pay additional $49. So assume you want 3 logo concepts to choose from, a realistic total cost will be $15 + $49 equal $64.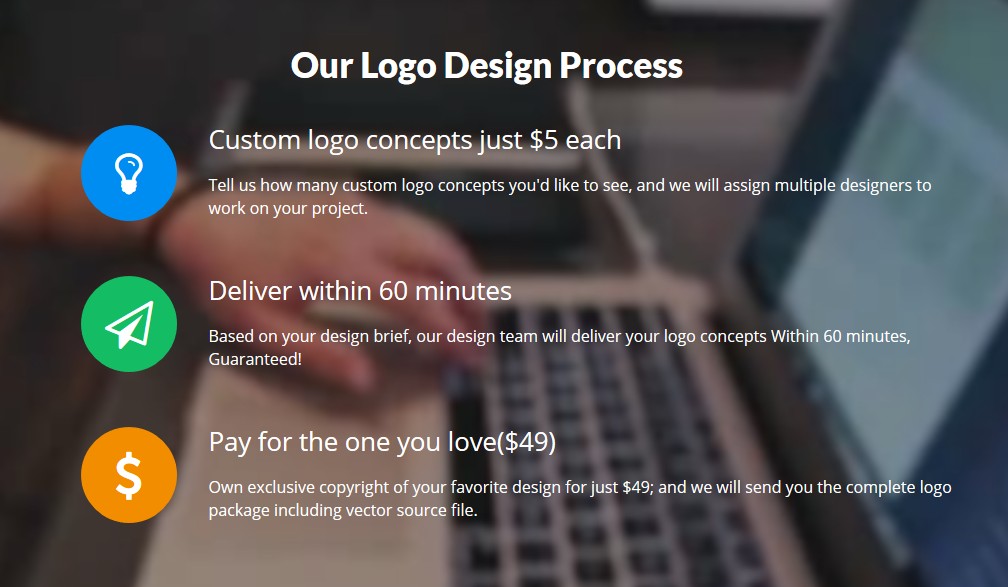 For Fiverr, the addon cost comes in the form of "Gig Extras". $20 more if you want express logo design service; $40 extra if you want multiple logo options; $10 more if you need high resolution file, etc… So depending what you choose, you total cost will also be around 60 bucks.
Realistically, both Logo123 and Fiverr will cost more than $5. But custom logo design for 60 bucks? That still is a pretty good deal.
What about design quality?
Given the price range, we are certainly not looking for award-winning artworks. But browsing through their logo portfolios we find most designs are pretty decent and professional. Especially for logo123, they have a "live portfolio" which includes all past works, not just selected few good samples.
I need a logo NOW!
I know if I ordered something, I want to have it ASAP NOW. Clearly the biggest advantage with logo123 is their express logo design service. After placing your order, you are guaranteed to receive your logo concepts within 60 minuets. And according to their website, their average design turn around time is just little over 30 minutes. This is truly amazing. I can place a logo order and wait in front of my computer and see what designer have created for me.
How they actually do it?
Fiverr and logo123 handles a logo design order quite differently.  With Fiverr, you pick the designer you want to work with.  So if you pick a popular designer with lots of buyer reviews, you will probably need to wait a long time before receive a response. On the other hand, logo123 processes a logo order by running a mini logo contest. When you submit an order, it is put on a job board for active designers to signup. And because they have registered designers located across the globe, it doesn't matter when, or what time zone you submit your order, they always have designers ready to take the job.
Summary
Quality custom logo design may cost more than $5, but for less than a 100 bucks you can get multiple custom logo options from different designers. All you have to do is pick the one you like. And if you like to get things done fast, the 30 minute delivery of your custom logo offered at logo123 is truly one of the kind. Just like what they have said on their about page "By utilizing the power of crowd-sourcing, Logo123 is an online logo design generator powered by real designers".
Save
Save
Save